We catch our EasyJet flight from Barcelona to Berlin no problem. It's strange to see an aerial view of each city. They all look so different!
We arrive in Berlin at about 12am and quickly grab some refreshments at one of the airport stores. Then it's off to figure out how to get to our hostel. Good thing the airport information desk is still open and they speak english!
We head off to the metro station and quickly figure out where we need to go. I really liked that the Berlin metro made sense and was easy to navigate. The only problem was that since it was so late, we could only go about 3/4 the distance we needed to go.
Tim and I end up hopping off at the last stop for the train and head outside into the darkness. We spend about 10 minutes trying to get a cab and we finally grab one that takes us to our hostel, Pfefferbett Hostel. We arrive on the scene at about 1:20am or so and we are instantly greeted by a drunk staff member.
"Welcome!" she said in a very enthusiastic voice while bumping into the desk counter.
She quickly grabs one of her other co-workers who has not had as much to drink. This place was a party. People were playing pool, the music was blasting house and there were probably about 30 people in the lobby chatting it up and drinking. This is NOT what I expected! However, it was a nice change of pace and was a very fun environment.
As we try to cash in our reservation, we are told that it was scheduled for the next day at 3pm. Hm. What day is it? The three of us go back and forth and try to figure out what day it is and all the details. We are told by the lady behind the counter that we could store our stuff at the hostel and party all night and check in later that day at 3pm. We contemplate the idea so we store our stuff and decide to try to figure out other options.
We walk up and down the street to find that a lot of the nearby hostels are completely booked and it looked like we were out of luck. That was until we stumbled across Wombats. We are relieved to find out we can stay at this hostel for the night. Want to know the catcher?
They only had a 40 euro a night apartment! Oh well, we needed our rest and we both didn't want to try to stay up all night till 3pm. We book the room and are pleasantly surprised at how amazing this apartment was.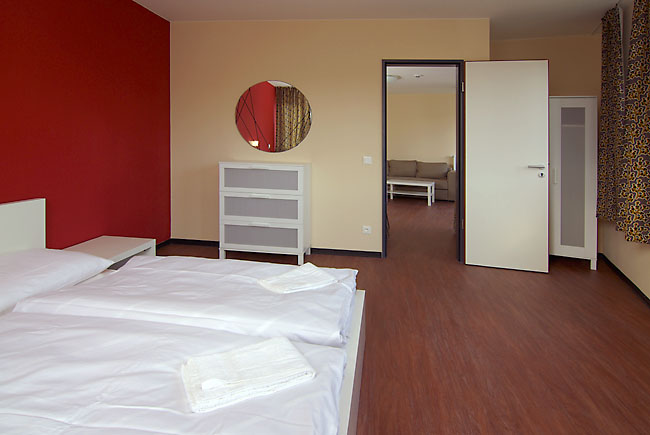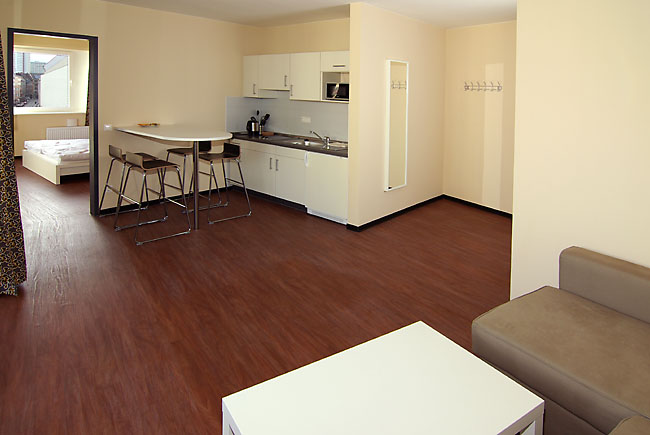 We instantly decided that no way we'd let this apartment go to waste so we end up getting ready to go out and socialize. We head back down to the lobby and ask the front desk of some good places to go.
We end up walking out the door where a young woman was in tears and had obviously been drinking. Man this was a party city. We head around the corner where we find 8MM Bar. We quickly head up to the bar and grab two rockstar vodkas.
"Cheers to Berlin!"
The staff spoke perfect english and looked like they just got off stage from performing their favorite 80's rock song. Long hair, cut off sleeves, tight jeans and tattoos. They were very friendly and helpful and recommended checking out 'Cookies', a popular nightclub for house music.
We decided to stay for awhile as the ambiance was unique. They had a projector showing old 80's rock music videos. People were lounging around drinking and having a good time. It seemed like the perfect hole in the wall bar that had great character. Touché Berlin. Off to a good start.
After finishing our drink, we decide to head back to our old hostel and move our stuff into our apartment. When going up to our apartment, we find an extremely drunk girl sleeping just outside the elevator. Well that's strange.
We go back outside and the girl is still outside the door crying, now talking to a somewhat creepy older male. As we walked away, it dawned on me that perhaps these instances could be related. We double back and ask if the young woman is looking for a friend. She instantly replies and releases a sigh of relief. I'm assuming she has been looking for about 40 minutes. We go back upstairs and try to wake the passed out lady. Boy she was drunk.
We bring 'Christy' downstairs and make sure both her and her sister are ok before we head off to our next destination.
We take a cab to the club and were happy to see it was still crowded. Upon entering the first room, we are engulfed by older pop and hip-hop music. We make our way through the crowd and head to the bigger room that was playing purely house. We end up staying for several hours till about 5am having the time of our lives and take a cab back to our apartment to rest.
We are awoken at 11am by a woman entering the door telling us that we need to check out. Well, that was fast.
After waking up from our brief nap, we checkout and go back to the Pfefferbett Hostel in which we check in our luggage and decide to head out and grab some lunch and explore.