All of a sudden Jason and I notice a group of people crowding near a corner of the arena. Curiosity got the better of us and we decide to get a closer look. It is until then Jason reminds us that people duck down and 'block' the entrance of the arena so the bull has to jump over everyone laying down to get inside. Knowing this, we instantly rush to the side just as a bull hurdles over the mass of people into the center of the ring. It's on.
Jason and I quickly jump over the railing of the arena. It's utter chaos as people hop over the edge. The ring is surrounded by people trying to watch. Inside the ring, individuals taunt the bull and run around. A couple people got hit by the bull and only one looked seriously injured.
This was a once in a lifetime opportunity and the memories will last a lifetime.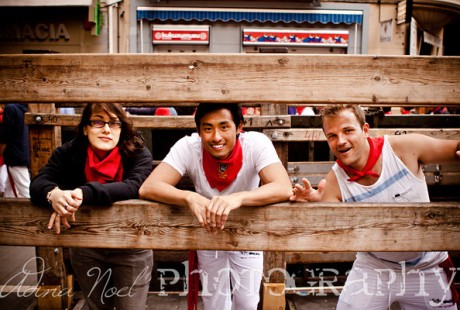 After all the festivities were over, Jason and I run back to our meeting spot in which we were glad to see Adina and Tim waiting. After taking some celebratory photos and sharing stories, we make our way back to the hotel.
After a quick rest, we shuffle off to grab our bus to San Sebastian. After only a couple small complications, we finally board the bus.
Then it started. You know how we all hate crying babies of the airplane, snoring at night and the annoying heckler at the baseball stadium? Well consider that combined wrapped in barbed wire, a megaphone, and 1000 times more of that person.
If you looked up drunkard in the dictionary, I wouldn't be surprised if they found this guy. Not only was he chanting the exact same song, "Something Something Arsenal" at the top of his voice THE ENTIRE TRIP, he'd also be drinking and smoking on the bus. Just when we thought he'd blow out his voice box and we can rest, out comes another scream for attention. Like watching a scary movie scene where everyone jumps back in their chairs, this guy was able to wake and steal any sort of relaxation and rest from the entire bus.
I've been reading "The Art of Happiness" by the Dali Lama, but this was one time I actually felt…well.. not so peaceful minded.
"Torro, Torro, Torro" he chanted at the top of his lungs. He also saw Adina had a camera and kept pestering her to take their picture. No way buddy.
Anyways, I'll save you the details of this bus ride.
Finally we all hurry to get off the bus and head to our next hotel. One thing learned from this trip was that Google Maps doesn't show elevation. Yikes! Although our hotel seemed close, it was all uphill. We finally arrive at Hotel Palacio del Aiete. The hotel was beautifully modern and seemed very upscale from first glance. We settle in and do a quick load of laundry in the sink and then take a bus out to the beach. With the lack of luck we've been having, I'd image my wet clothes would fly off the balcony in a fit of rage and I would be left with nothing. Oh well, c'est la vie.
We take a nearby bus to the beach area. At a quick glance, the area reminded me of Catalina Island. Boats floated just off the shore and people were resting on the beach in full clothes (as it wasn't the warmest of days). Of course, what European beach wouldn't be complete with the man speedos and the naked people.
Nearby a man was playing with his dog, throwing pitches into the water hoping his dog would bring it back. Somehow I got the feeling the dog was completely over it.
Children would jump off a wall into the water, egging each other on to see who could make the biggest splash.
After a couple of hours relaxing on the beach, Adina leaves to go home back to Bilbao, Spain and we continue our journey.
The three of us make a trip to the top of this ancient castle which we sat on the castle wall and observed the many canons. On a nearby bench, "Stop Tortuga" was spray painted. It seemed very fitting.
After spending several hours, we wander around where we watched the many waves crash into the castle walls. Individuals had huge fishing poles and were trying to catch some sea-life. The wind was blowing very hard and the sun was just about done. We make our way back to the hotel and get ready to go out. Little did we know, San Sebastian is a ghost city at night.
We ended up wandering the streets of San Sebastian completely alone. If there was a zombie apocalypse, this is what it would look like. Dead silent. No one around. We ended up running into a couple of people, had some fun, and then turned in for the night.
We stay up till about 4am as we are to take a train to Barcelona, Spain early in the morning.
Date: 7/13/11