Running with the bulls Archives - Ryan Lum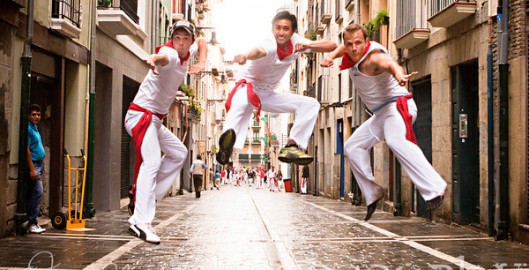 All of a sudden Jason and I notice a group of people crowding near a corner of the arena. Curiosity got the better of us and we decide to get a closer look. It is until then Jason reminds us that people duck down and 'block' the entrance of the arena so the bull has to jump over everyone laying down to get inside. Knowing this, we instantly rush to the side just as a bull hurdles over the mass of people into the center of the ring. It's on.
A man is a success if he gets up in the morning and gets to bed at night, and in between he does what he wants to do." -Bob Dylan
I woke up this morning with butterflies in my stomach. This is why we were here. We quickly got ready as it was about 5am and needed to get a good spot to run. We haven't really eaten anything since about 6pm the day before. It rained the night before so the roads were slick. I was nervous that with all that has happened, something bad would happen today. I was nervous that all of this was an omen to come. Regardless, we all got ready and headed out into the morning. I kept my mind positive…I would not die today. Rather, this would be one of the best moments of my life.
How often do you honestly think that?
I love traveling because it opens your mind to new ideas, cultures and traditions. Whenever anyone asks me why I love travel, it's really a simple answer. I enjoy it.
When I studied abroad in Paris, France about a year ago, it opened my mind to a new culture. I studied French language and culture back in school, but it's totally a different ball game when you are actually immersed in the culture. Waking up in the morning and going to a local market for fresh produce. Struggling to make conversation and get help if you get lost or you're confused. Taking life slow and enjoy the pleasures of laying on the lawn beside the Eiffel Tower. There is nothing more rewarding than going out and having experiences.
Travel also gets you to actually go out and see new things. It seems when we live in one place for awhile, we still never go out and do everything. Whenever you are out traveling, there is always a list of things you want to see while you are there. Ultimately, I want to go out and experience life and culture so that when I have children, I can raise them with a more open-minded and worldly perspective.
I plan on taking a trip to Spain, Germany and Amsterdam in a couple months. Here are some of the things I plan on doing while I'm there (on-going list that I will continuously add on to):